Are all Work from Home Jobs Scams?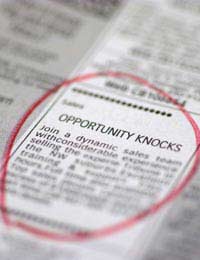 It's not hard to find home working jobs through the internet and simply placing the words 'work from home' into a search engine will bring up thousands of results. But the internet is awash with stories of people falling for home working scams. So are all work from home jobs simply scams?
The Popularity of Work from Home Jobs
The rise in home computers and the internet has opened up a new source of employment options for a number of people including parents with small children. But of course the internet is now the number one scamming option for less than reputable individuals looking to make some easy money. A large number of people have already been duped by con merchants offering home based work options. Sorting out the scam jobs and those offered by reputable employers simply takes a little research and some common sense.
Reputable Work from Home Jobs
There are a few ways to ensure that the scammers don't get their hands inside your pocket. The first step should be to check out reputable home working websites as these sites allow home workers to register their details, upload CVs and search job lists. More importantly they have forums where other job seekers post reviews and comment on work from home employers. This means that scam employers can be named and shamed, and more importantly, avoided.
Checking Website Employment Sections
There are numerous websites that are well known to be the breeding grounds for the scammers. These hugely popular websites allow anyone to post adverts for almost anything. Unfortunately there is no control on these websites over who can and can't post job advertisements, be it reputable employers or scammers. The only way to beat the scammers on these websites is to flag their advertisements in order to have the adverts taken off or to leave comments in the forums section. These websites can be useful in finding home working jobs but a cynical attitude should be used when reading the adverts.
Using Common Sense to Beat the Scammers
One of the best ways to beat the scammers is to use common sense and not be lured by the opportunity to make large amounts of money from working at home. Tips to beat the scammers include:
Never ever give money to employers offering home working jobs
Check the name of the employer using internet search engines and home working forums
Treat promises of monthly salaries in the thousands of pounds mark very cynically
Don't be afraid to ask the employer for references from other home workers who currently work for them
If no salary amount is supplied then ask about this before signing any contract or supplying work
Avoid employers who ask potential employees to buy equipment from them before work can begin
Never buy 'employment information' such as lists of employers who supply working from home jobs
The number one golden rule that so many desperate job seekers avoid – if it looks to good to be true, it is
Home Working Jobs to Avoid
There a numerous home working jobs that should be avoided as the money involved will simply not be worth the time and effort. Home working jobs such as data entry, multi level marketing, envelope stuffing and posting adverts all over the internet will not make the vast sums of money that companies promise. Similarly, companies that promise thousands per month by starting an online business are simply looking to make money by supplying useless and usually outdated information.
Find Home Working Jobs through Legitimate Sites
Another way to find legitimate home working jobs is to use internet recruitment sites. Internet recruitment websites work in the same way as high street recruitment centres. Employees can post CVs and search for home working jobs and these sites are free to use. It may take some time to find a home working job on these sites but the scammers will not usually be found here, and again, the forums will be useful. Job searches can be narrowed down to the type of job and salary requirements.
Common sense will be the biggest asset a job hunter has when applying for internet home working vacancies. There are still plenty of home working jobs available on the net for skilled and unskilled employees. Researching potential employers should ensure that job seekers do not waste valuable time and money on fruitless job searches.
You might also like...