An Extra Income Teaching English in the UK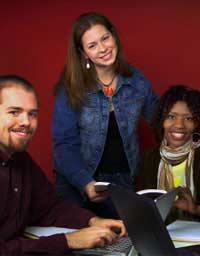 Teaching English abroad has become a massive business with people of all ages travelling the world and earning a living using this skill. But the demand for English teachers in the UK has also risen and this skill can be used in a part or full time capacity.
English as a Foreign Language in the UK
The UK has steadily grown into a multi-cultural society and the demand for English as a Foreign Language (EFL) teachers has been increasing. Most universities and colleges in the UK will provide EFL classes for foreign students, especially in larger UK cities and towns. There are also private EFL agencies throughout the UK that employ teachers on a part-time and full-time basis. EFL teachers can also work on a self employed basis, allowing an extra income for those with a limited amount of free time.
Qualifications Needed To Teach EFL
The qualifications needed to teach English as a foreign language do vary. In some cases a university degree will be all that is required but a Teaching English as a Foreign Language (TEFL) qualification is usually a necessity. A TEFL or a Teachers of English to Speakers of Other Languages (TESOL) qualification will usually be required in the UK. Most colleges and universities will provide full-time and part-time courses for students looking to gain these qualifications.
Fast Track EFL Courses
TEFL and TESOL qualifications can now be gained online. Fast track courses are available for those who wish to gain these qualifications but have a limited amount of time in which to study. Online courses can include actual classroom training time with a weekend of practical work included in conjunction with the online training. Any course that offers actual classroom training will be bonus. Employers do value this type of practical training more than online training only.
Always Research Online EFL Courses
It is vital that potential students do research their options when it comes to online EFL courses. Using online forums to interact with other students who have already completed courses will be the best way to gauge opinions on online EFL courses. Don't just go for the first option, or the less expensive option. Make sure that the course teachers and the EFL company are accredited and do provide recognised qualifications at the end of the course.
Duties of an EFL Teacher
An English as a Foreign Language teacher does of course teach English but this is only part of the job. Duties are varied and depending on the institution will usually include:
Planning and preparing lessons
Setting exams, tests, and exercises
Organising cultural and social events for students
Implementing audio and visual tools into lessons
Teaching students on an individual basis
Promoting and advertising courses
Basic administration duties
Classroom management
An Extra Income as a Self Employed EFL Teacher
Gaining an EFL qualification and then becoming a self employed teacher is a great way to bring in an extra income. The rates of pay are good and teaching hours can be set to suit the teacher such as in the evenings or weekends. Classrooms can be hired at colleges and universities and teaching can also be undertaken on a one to one basis with students. Self employed EFL teachers may need more preparation time as they will usually have to advertise courses themselves and deal with all administration.
Where to Find EFL Jobs in the UK
There is a wide variety of institutions in the UK that can be approached by EFL jobseekers. Universities, colleges, and schools are the most popular options. However, there are independent language schools that can be contacted and job vacancies are often placed on their websites. Don't forget that there are also recruitment agencies in larger cities such as London that do specialise in recruiting teachers. These recruitment agencies will be able to place EFL teachers into employment on a permanent or temporary basis.
Teaching English as foreign language is an excellent way to bring in some extra income and can also be a very satisfying job. The opportunity to teach abroad is also an option for teachers who wish expand their horizons. Teachers who work abroad for a short period should find this is a valuable CV bonus when looking for employment in the UK.
You might also like...