A Second Income Running Your Own Business?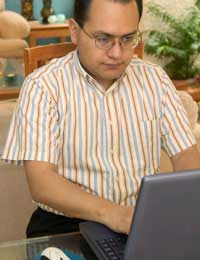 Probably the major attraction about working for yourself is that you're the boss. If you want to take an hour off and do something else there's no one to stop you. All the decisions are yours from what kind of business you undertake to how many hours your work - which of course directly impacts how much money you make from the business.For someone with a family, it can be ideal situation, since you can tailor your time around your family, and have room to take holidays and away days.
Be realistic about what you want in terms of a second income (although some do find that their business grows to the point where it can be their sole income). The sky might be the limit, but do you really want to fly that high, or are you content just hovering off the ground?
The Minuses
It might well seem that the minuses far outweigh the pluses, and in many ways they do. But for anyone considering going into business, it's best to do it with your eyes open. The rewards can be great, but achieving them is hard.The first thing to consider is that the vast majority of businesses fail, usually within the first year. That applies not only to retail concerns, but all businesses, and it's a sobering statistic. The odds are stacked against you from the start.
The second vital thing is that running your own business requires a lot of hard work and self-discipline. Yes, you can bunk off, but the more you do, the less chance of the business succeeding. You have to be willing to put in the hours and the graft to build it up. Working for yourself can take over a lot of your free time, even if you'd never intended it to be that way. To succeed, you have to be driven.
That's especially true when dealing with the paperwork. It's bad enough when you're the only employee (and note that above a certain level, self-employed incomes are taxed at 22%), but if you also have others working for you, it can become a sea of forms, especially if VAT is involved. If you don't want to deal with that, or don't have a good accountant, then it might not be the life for you.
In other words, there can be a lot of roadblocks in your way if you intend to create a second income from your own business. But, if you're willing to put in the time and effort, it can provide an ongoing, and increasing, stream of money for you.
You might also like...