Earning an Income from Social Network Sites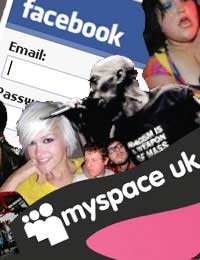 The internet has become saturated with pop-up adverts proclaiming that anyone can earn an income from social network sites. Social network sites are not going to make people rich, unless you actually own a share in one of the major sites. But there are ways to use networking sites to promote a business and to generate some income.
The Growth in Social Network Sites
Social network sites have exploded in growth over the past few years. Internet media researchers report that social network sites claim 1 out of every 20 internet visits. There are around 1000 sites on the internet but this is set to expand to 250,000 within the next few years. With an estimated $50 billion online advertising expenditure per year this is big business for the site owners. With figures like these it's not surprising that users are beginning to wise up to the fact that these sites could be a way to bring in some extra income.
Promoting a Business Through Social Network Sites
Anyone with a business will be aware of the high cost of advertising and marketing using traditional methods. Using social network sites to promote a business can drastically reduce the amount spent on business advertising. It can also mean that the business can reach a global audience for a fraction of the cost of normal advertising methods. Users cannot actually sell products on social network sites but they can advertise and direct other users to their own business websites.
Income from Your Own Social Network Site
Any business or individual can easily set up their own social network site; all that is required is a website. Existing website owners can turn their sites into social network websites using social website software. This software will come at a cost but a quick internet search will bring up software that is free to download. The major plus point is that users can bring together like minded individuals to interact, bringing more customers to the website.
Making Extra Income with Advertising
If a user builds up enough of a following on their website then there are ways to bring in some income. Placing adverts on the sites can bring in revenue through affiliate advertising programs such as Google Adsense. Users can make some extra cash depending on the number of people who click on the adverts and by the number of page views. The more traffic that arrives at the website the more cash will be generated. Be aware that this is not the route to quick and large amounts of cash unless the website owner has a huge amount of followers.
Social Network Site Statistics
Still not interested in social network sites? Too much effort to even consider? Then take a look at these statistics.
The social network site YouTube was set up in 2005
Within two years YouTube was sold to Google for around $1.6 Billion.
The popular social network site Myspace was founded in 2003
In 2005 the company that owns Myspace was bought for $580 million
Facebook, launched in 2004, now has more that 200 million active subscribers
Revenue from Facebook is estimated to be in excess of $500 million
Monetary Incentives and Social Networking
There are other ways to utilise social network sites to make money including participating in paid forums. Many of the new social websites actually pay users to take part in discussions in their forums. Other sites such as Yuwie will actually pay users to network on their site. Users on these sites can also make money by referring people to the sites. The more a person networks using the paid networking sites the more money they will earn.
Social Networks and Revenue Sharing
Advertising is the biggest money maker for social network site owners. Some of the networking sites will offer users a share in advertising revenue. The income could be anywhere from between 50% to 100% of the revenue generated by users clicking on the page adverts. Some websites actually allow users to choose the adverts that are placed on their profile pages. Terms and conditions will always apply but this may be a simple way of generating some revenue with no extra effort involved.
For the everyday social network site user there are no get rich quick routes to be found on these websites. However for those who think big and can come up with an original idea there may be some income to be made by setting up a site. Social network sites that actually pay users are worth taking a look at. If the option is between a non-paying and a paying social network site then it can make financial sense to join the latter.
You might also like...