Use the Internet to Make an Income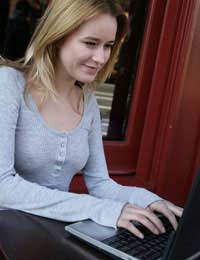 Sometimes it can seem as if all the good jobs - even the part-time ones - are taken, and it's hard to find anything interesting or that pays more than the minimum wage. Hunting for a way to make extra money can be a frustrating experience.
However, if you use your imagination a little, there are really plenty of possibilities out there. It's perfect possible, for instance, to make money online. Yes, it takes time and effort, but no more than you'd put in at another job, and the rewards can be much greater. On top of that, you can do it from home.
Ways to Make Money Online
There are often ads saying people can make money at home by filling out online surveys. To a point, that's true, although probably very few, if any, actually make the kind of income they say is possible. You have to be careful (don't go for any that demand a registration fee), and try and avoid those that give credit, rather than cash. By looking around carefully, and registering with a few of the survey companies, it's quite feasible to make an extra £50-100 a year for a few minutes a week. That's not much, and hardly qualifies as a real second income, but it's all money in the bank.
When online auction sites began in the middle of the 1990s, no one would have predicted that they'd take off the way they have. The biggest of all, of course, is eBay, which is now in some many countries. There are plenty of people who make a living from eBay. Some do it by selling merchandise.
If you pick the right items, for which there's a demand, it's quite easy to make eBay into a profitable enterprise. It takes time - not only do you have to list the items, you also have to acquire them, which means effort - but it can prove worthwhile. Vintage clothing and accessories are perennially popular; spending some time in local charity shops can yield a bounty to sell on. Of course, eBay charges seller a fee, not only to list, but also a percentage of the final selling price. That's simply a cost of doing business.
There are also businesses that specialise in listing, packing and posting items for others who are too busy or don't want the trouble of doing it themselves. Both here and in the US there are chains of shops dedicated to that. But if there's not one near you, it's a service you can offer. It might mean time spent at the Post Office, and certainly time wrapping items, especially delicate ones, but again, you can charge for that in the service. By using your imagination, you've created a second income for yourself. Simply advertise in the local paper, in the newsagent's and wherever there are bulletin boards, and you're ready to go, although it's unlikely you'll be overwhelmed at first. Like all new businesses, it needs time to grow.
Other Online Income Sources
Do you run a number of websites? If so, using Google AdWords on them can bring in extra money, although it probably won't be a great deal. Are you a techie? Then maybe you should look at games like Second Life, where real people create items for other players to buy in the game, but are paid with real money.
The secret is to think outside the box a little. Be creative, and there are plenty of ways to make money online.
You might also like...