Make Money by Self Publishing on the Internet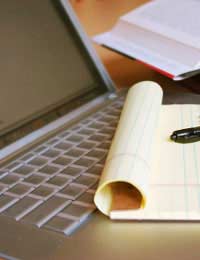 Self publishing a novel or e-book can be the smart move when it comes to cutting out the literary agents and retaining more of the profits. Self publishing is a way to take control over a literary creation, and the internet has now made this process a low cost option.
Self Publishing Using the Internet
Before the internet, writers who wanted to self publish their work had to pay companies massive amounts for the privilege. But today, writers who self publish their works are cutting out the need to pay large sums of money. Writers can now be in full control of the publishing process and retain around 80% of the income from the sale of their work. Writers are also using the self publishing route to get their work out into the market without the need for approval from the literary business world.
Self Publishing on the Internet is Free
Internet self publishing companies such as Lulu.com provide free, simple to use tools to publish novels, e-books, photograph books, and even music CDs. The process requires the writer to upload their finished work to the website and then make a few simple choices regarding the publishing process. These choices will include the format of the book, such as an electronic copy and/or hard copy book, and the price that the work is to be sold at. The publishing company will then process the order and the manuscript will be turned into a book and sent when a customer decides to buy
Retain More Profit by Self Publishing
There are a number of advantages to self publishing with the biggest being the profit margin. Writers who self publish and sell can retain around 80% of the profits from every sale. The books can be placed on sales sites therefore reaching an even larger customer base. There are a number of different self publishing sites available and writers are not restricted to just one. However, it will be in the writer's best interests to shop around to compare the profit percentage offered by each site.
Marketing a Self Published Book
Self publishing sites can also help out when it comes to marketing a book. They can permit writers to create their own virtual storefront where customers can browse and discover new books. As this is the internet the potential customer base is global and therefore huge. Smart writers can maximise their earnings by advertising their work on other websites such as literary sites and book review sites. Again, most of these sites will be free to use and a simple description and link to the book is all that is required.
Major Advantages to Self Publishing on the Internet
Apart from the profit margins there are a number of advantages that can make self publishing an attractive option. The advantages include:
Retain more control over the finished product
No editor advising cuts to the work
Print on demand (POD) means less waste; books are created as required
The internet has major customer potential such as those using social networking sites
This is passive income; meaning recurring income for one piece of work
Topical books can be published immediately without having to wait for the approval of publishers
Disadvantages of Self Publishing
Of course there can be some disadvantages when it comes to self publishing, especially for new writers. Many books do require editing and it can take the eagle eye of an editor to know exactly what works and what doesn't. Self publishing is still regarded by many in the literary business world as a 'no go' area for writers who want to be taken seriously. This can make issues such as book reviews and placing the book into stores difficult. However, some smart marketing on the writer's part can overcome this problem.
Get Your Book Seen by the Right People
Most writers spend a lot of time on the internet and this is where they can meet other writers and journalists. Selected passages from the self published book can be placed on blogs, citizen journalism websites and social networking sites. Building up a good following can make book reviewers think twice when it comes to reviewing a self published book. Remember, many of the world's greatest writers actually self published their books after they were rejected by literary agents.
Self publishing has lost a lot of the stigma that previously dogged this publishing method. The literary world is very competitive and self publishing can be seen as a proactive step and a serious commitment by the writer. The famous 'publish or perish' quote now has a new meaning thanks to self publishing sites on the internet.
You might also like...