Part Time Work as a Translator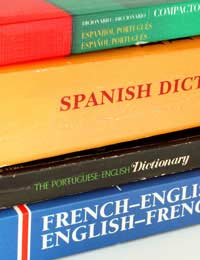 People who are fluent in different languages can earn a good extra income as a part time translator. Those with a good degree of fluency should not have a problem finding part time translating work.
What is a Translator?
Many people make the mistake of assuming that translators and interpreters are the same job. But translators deal with turning written text into another language, an interpreter deals with the spoken word or sign language. Most companies will be looking for people with a high level of fluency in another language; generally verbally and written. In most cases, translators will turn the foreign text into their own mother tongue. But there are highly skilled translators that do have the ability to turn one language into another that is not their own language.
Skills Needed to Become a Translator
A good to excellent level in another language is a prerequisite skill. Translators must have the ability to turn the source language, which is the language to be translated into the target language, the final language translation. A translator must be able to comprehend the source language structure and translate it so that it works as a readable text. This is not as easy as simply translating words. Translators must have the ability to translate, structure, and write entire books or newspaper articles into a readable target language.
Qualifications Needed to Become a Translator
A degree in translation will make obtaining a translating job easier but is not always necessary. Anyone who has mastered the ability to read, write and speak in a second language can become a translator. Those without formal qualifications may find it difficult to obtain that first translating job. But once professional experience has been gained the qualification aspect will become less important. Many translators are people who have lived abroad in a country for years and learnt to read, write and speak in that country's language.
Experience of the Translation Subject
Having experience of the subject that is being translated will help when obtaining certain kinds of translating work. Many translators specialise in a certain area, for example technical texts. A degree in physics would give the translator a deeper understanding of technical translation text. Many translators do specialise by gaining qualifications in the subject they are most interested in. This is not always necessary but will be beneficial for translators looking to specialise in a certain area.
Part Time Work for Translators
There is part time work available for translators and most will find work in a freelance and contractor capacity. This allows translators to fit work in around their schedule and to source work from many different companies. Translation work is highly paid, and excellent translators should not go short of work. The range of work available is diverse and can include publishing houses, newspapers, government offices, businesses and educational institutes. Translators are of course employed by companies on a permanent part time and full time basis.
Sourcing Part Time Translating Work
Sources for translating work are similar to any other job sector. Local job centres will have a number of translating positions available especially in large cities and towns with government offices. There are also recruitment agencies that specialise in translation work and these can be found on the internet. Translators who do have proven work experience can also set up their own websites and self promote and market their skills. By doing this the translator will be able to avoid paying fees to a recruitment agency.
Tools Needed to Become a Freelance Translator
Aside from fluency in a second language there are specific technical tools that freelance translators will need. These business tools will include:
A computer with a good broadband connection
Good knowledge of programs such as Microsoft Word, Excel, and Powerpoint may also be required
A fax may be needed to receive and send contracts although e-fax capabilities may be suitable
Knowledge of HTML may be required for those translating web pages
Up to date language dictionaries and reference books are essential for translators to keep abreast of changing language terms
Getting a foot in the door in the translating world can be hard for those without the relevant qualifications. But it is not impossible for those with excellent written and verbal skills in a second language to find a translating job. It may take perseverance to gain that first foot in the door but once this has been achieved translating can be a well paid and interesting job.
You might also like...