The Reality of Starting a Home Business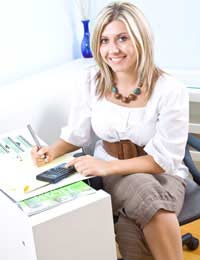 Compared to the positive aspects the reality of starting a home business may not appeal to everyone. Starting and running a home business can mean long hours, large amounts of paperwork, and staying on top when business is down.
Positives Of A Home Business
When starting up a home business it is easy to see the positive aspects and ignore the negatives. On the plus side a home business does give a degree of flexibility with time as opposed to the rigid confines of the nine to five world. There is also the fact that you are creating money for yourself and not making money for someone else. Being your own boss is also an appealing aspect but the reality can be vastly different to the imagined dream.
The Time Management Factor
Going into a home business may seem like an excellent way to manage time with regards to both business and family life. However, the reality is that starting off a home business can take very long hours. Hours can soon disappear when dealing with phone calls to clients and suppliers, not to mention actual productive work time. Many small business owners will work evenings and weekends and those considering a home business should be aware of this fact.
Giving Up a Steady Wage
Taking the plunge and leaving a stable job to start up a home business may mean giving up a steady wage. Those with mortgages and families should consider this very carefully. A home based business can be a risky venture and there is no guarantee of success. If you are a married working couple and one partner is intending to leave a steady job then the household income will be halved. If it is feasible then starting the home business as a part-time secondary income may be the wise choice.
Borrowing From Banks
Banks are one of the major resources when looking for start up funds. However, banks will be reluctant to provide business funds without security. In most cases they will also want proof of business experience and they will want to see a strong business plan. If you do succeed in finding funding via the banks then these loans and overdrafts can be called in if you miss only a few payments. Personal savings are a better option to use for start up funds and will keep monthly financial outgoings low.
The Paperwork Factor
There can be a huge amount of paperwork involved in running a home business. Invoicing can take up a large amount of time and can involve customers, suppliers and creditors. Business taxes will need to be assessed at least once a year and to the inexperienced this process can be a headache. It may be better to spend some cash on an accountant who will be able to advise on all of the tax breaks and allowances that are possible. Assessing your own taxes could mean missing out on a great many tax allowances.
Weathering The Lean Times
Home businesses are of course prone to bad times as well as good times. After starting up it could take many months before any profits come in. There will also be times when business is low and there may be no income at all. The lean times can be a drain on personal finances, and ironically it is at these times that lenders will be less willing to extend overdrafts. The lean times can be severely stressful and adequate funds should be kept aside in case of such lulls in business.
Questions To Ask
If you are considering starting up a home business then sit down and draw up a list of questions and answer them honestly. These questions should include:
Do I actually have the skills to run this business?
Can I actually afford to start up a business?
Will this business realistically make enough money to live on?
Do I really have the time management skills needed to run a home business?
Will I be able to handle the stress that comes with running a business?
How much will I need to start the business and can I obtain extra business funding if needed?
Am I proficient in bookkeeping issues and what tax issues do I need to be aware of?
Starting up and running your own business can be an exciting and satisfying experience. If the business does become successful then it will make up for the struggle in setting up the business. Not everyone is cut out to run a home business but it can bring great rewards to those who are successful in their endeavour.
You might also like...