Recruitment Agencies FAQ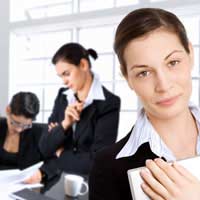 Recruitment agencies are one of the most popular ways of finding employment in the UK. Every city and town throughout the UK will have a recruitment agency or multiple agencies. There are significant benefits, and some disadvantages when using agencies to find employment. Here are some frequently asked questions that may help when considering recruitment agencies.
Do I Need Work Experience To Find A Job With A Recruitment Agency?
Work experience and qualifications will open up more doors when it comes to job offers from a recruitment agency. Agencies will try their best to match up your qualifications and experience to the clients (employers) they use. School leavers with minimal experience may still find recruitment agencies helpful and agencies do have facilities that can be used to train up employees in basic administration and computer skills.
Why Not Just Apply For Jobs Directly?
There is always the option to apply for jobs directly with employers. However, agencies do have a wide number of employers who will only use recruitment agencies to find their employees. Some employers will not advertise using traditional methods but will leave recruitment up to the agencies. Employees through agencies have usually been vetted and employers recognise they are getting a high standard of candidate. Many employees also work as temporary workers through agencies while looking for their ideal job.
What Is The Registration Process?
You will need to register for an agency before they can find work for you. The registration process will usually take a few hours and include filling out forms containing work experience, qualifications, and personal details. Depending on the type of job there may actually be tests to sit. For example, applying for administrators positions may require basic typing and computer tests to assess the candidate's skill levels.
Will Agencies Take A Big Cut From My Salary?
The amount charged will depend on whether the job is temporary or permanent. If an employee is placed in a permanent position then the amount charged will usually be a one-off percentage of the employee's salary; but this is paid by the employer. Temporary workers will usually be paid directly by the agency and the amount paid by the employer to the agency will already have been taken off. The employee should know exactly how much they are being paid before beginning any job.
What Is A Temporary To Permanent Position?
A temporary employee will sometimes be offered a permanent position within the company they are working for. If this is the case then the recruitment agency may charge the employer a finding fee. However, this payment might not be applied if the temp has been employed with a company for a set period of time.
Do I Have To Accept Any Temp Job I Am Offered?
You do not need to take a job if it is offered to you by the recruitment agency. In most cases it is wise to not accept a job that you know you will be unhappy in. Good recruitment agencies will try to find the best match for their candidates. However, once you are in a temp position, agencies will not usually go out of their way to find something new if you simply don't like the work.
Recruitment is sales based and the more employees they have working the better. It is in the agency's interest to find positions for new candidates rather than finding new jobs for those they have already found positions for.
Is Sick Pay And Holiday Entitlement Available?
Recruitment agencies should pay sick pay and holiday entitlement to their candidates if they are in paid positions. If a candidate is paying National Insurance contributions then they should be entitled to sick pay. Holiday pay will usually work out at one and a half days holiday for every month worked, if full-time. These conditions should be discussed with the agency at registration.
Should I Register With Multiple Agencies?
There is nothing stopping a candidate registering with different recruitment agencies and it should widen the job offers. Recruitment is a competitive business and candidates may be able to obtain better rates of pay with other agencies. Registering with online recruitment agencies is another option to widen the job search.
Why Do Agencies Tell Me The Jobs They Advertise Are No Longer Available?
Recruitment agencies are businesses and they need to attract candidates just as shops need to attract customers. Agencies will often advertise certain jobs simply to bring in candidates in order to register them on their books. This does not always mean the jobs advertised do not exist; they may simply be the type of jobs they have but do not have available at the moment. It is always better for an agency to have candidates on their books that can fill positions if they do become available.
You might also like...