Looking For a Job on the Internet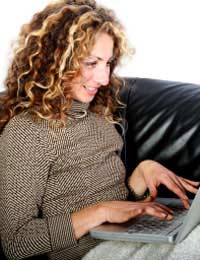 When hunting for a second job, there are a number of places to look. But possibly the most fertile of all these days is the Internet. It has the advantage of being easy to search, and generally quick to reply - in most cases you'll be asked to send an e-mail, possibly with your CV attached. It might not have the personal touch of applying in person, but what could be simpler?
How To Search
One of the beauties on the Internet is that you can narrow your search by location or type of job, and generally come up with useful results. There are some sites that act as general classifieds, where you can narrow the field by area (some will let you search the country by principal cities, for instance, and delving deeper into the "Jobs" section gives you categories, including part-time work) - Craigslist is an excellent example.
When seeking part-time employment, these types of sites can be the best sources, since they cover all kinds of employment. It's also possible to find local bulletin boards, some of which may contain job vacancies. To be fair, those will be more the exception than the rule, but for a couple of extra minutes of searching, it can be worth the effort.
However, if you're seeking a specific kind of extra job - in accounts receivable, for instance, or dispatching - then it might be more productive seek out sites that specialise in office work. Again, typing in a search such as "Accounts receivable jobs UK" can bring up bulletin boards and agencies that can prove very helpful.
A lot of the trick is in refining the research so there's the maximum, most useful return for the effort. Start with a general search, such as "Part time jobs UK," then narrow it down to your location (obviously, if you live in a rural area, you'll have a very low return, so you'll need to cast your net wider).
Agencies
There are a number of what are, effectively, employment agencies online. Most of them are free for individuals - it's the employers who pay. You post your CV and hope an employer contacts you, although there are also job listings for which you can apply. They've proved to be very successful over the last few years, pairing many people with jobs.
The downside for those seeking a second income is that the vast majority of positions available are full time, and employers going through CVs are seeking people willing to work 40 hours a week. However, that's not invariably the case, and since the majority don't cost anything, it's still worth posting your details and seeing if you receive any bites.
Applying For Online Jobs
For most jobs advertised online, applying generally means sending an e-mail and sometimes a CV (read the ad carefully to see what the employer requires). But what form should an e-mail application take?
Think of it as any other application letter. Be businesslike ("Hi" is not appropriate as a greeting). If you know the name of the person, use that, prefaced by Mr. or Ms.. If not, a generic "Dear Sirs" is best.
Lay out your interest in the job, and what you seek - in this case part-time employment - and why you're interested in the job, along with any special qualifications or experience you have that might help. Close with "I hope to hear from you soon," follow by "Sincerely" and your name.
If full contact details have been requested, include them. Otherwise, don't, and allow the potential employer to make further contact via e-mail. This is also a safety measure; if the ad is a scam, then you're not revealing too much in the way of personal details.
You might also like...