Types of Jobs Working with Pets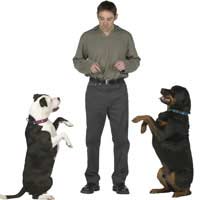 We British love our pets, and spend a lot of money on them, for food, care and pampering. Not just a lot of money, but a fortune; the pet industry is worth billions of pounds every year - and plenty of people are making money out of it. Why shouldn't you be one of them?
Think about it: if you have time on your hands, love animals (even if it's just certain types of animals), and are looking for extra income, why not combine those factors to start your own pet business?
Types of Pet Business
Short of opening a kennel or cattery, which is a large venture involving a lot of time, expense and paperwork, there are a couple of feasible options open to you. One is as a dog walker, and the other a service where you go into people's homes while they're away and look after their animals.
You'd be working mostly with dogs and cats, but you might find it can include other household pets, anything from ferrets to snakes. After all, they all need water and they all need to eat.
How it Works
Dog walking might sound simple enough, and at heart it is - you collect the dog from someone's house and talk it out for a walk on the lead. But a lot depends on the temperament and size of the dog involved. If you're a small person, exercising a disobedient Rottweiler, for example, can be a huge challenge. Similarly, a couple of yappy Yorkshire terriers darting all over can pose problems.
Dog walkers charge around £7 an hour, but for that money you have to be out in all weathers, and cope with the walking problems, which can include towelling the dog dry after a walk in the rain or snow.
As a bonus, besides the money, you also get plenty of exercise, especially if you're walking three or four dogs in a day. However, fitting it around a full time job can be difficult, depending when you work. Most people will want their dogs taking out during the day, when they're at work, so this is perhaps best suited for those who are at home, or work from home and have flexible hours.
Looking after people's animals in their own homes - essentially being a pet sitter - can be a bit trickier. Obviously, there's more involved - making sure the animals are fed, exercised and watered according to a schedule, cleaning cages or litter pans, and so on. You'll also need to be sure that the animal's healthy, and if there's a problem, take it to the vet (the owner should have left you vet contact details - in fact, you should insist on it). Sometimes even finding the animal in the house, at least in the case of cats, can be difficult - some will hide from strangers, while others will welcome the company. Part of the job is spending some time with the animal, so you have to allow for that in your scheduling.
What You Need
One of the big advantages is that, beyond a love of animals and plenty of patience, you don't need any special qualifications. Experience with animals is desirable, and a willingness to learn about the types of animals you might be called on to look after.
You'll also need a good work ethic (you can't take a day off just because you don't feel well!) and a strong sense of responsibility. However, if you do well with a few animals, those owners will keep coming back to you, and the word of mouth will spread (a little local advertising won't hurt either!).
You might also like...