Turning Art Into Cash: A Case Study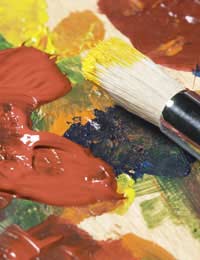 Anyone who has a level of expertise in a subject can usually find a way to turn that skill into income. Making money from a hobby can be a fulfilling experience and can often lead to larger opportunities as this case study shows.
Turning a Hobby Into Cash
Most people indulge in their hobbies as a way to relax and to give themselves pleasure at the results. Making money from a hobby is not always an easy thing to do; for instance hobbies are often associated as simply amateur activities. But there are people who have gained a degree of excellence within their chosen hobby that could easily rank with the professionals.
Turning that hobby into cash can simply mean it's to time place a value on the results of thousands of hours spent developing a skill.
The Benefits of a Hobby
Claire Kiani, 32, had always enjoyed painting but saw it more as a hobby than a way of actually making money. "I've never had any actual training or taken art courses and saw art as simply something I did for myself, not for anyone else." said Claire.
"I had always painted but gave up for a while to start a family. Art was something that I did occasionally for relaxation and it simply made me feel better." When Claire had children she stayed at home to look after them and also began to devote a number of hours per day on her painting as a break from household tasks.
Acting on an Opportunity
In 2007 a friend came to visit and while being shown around Claire's cottage was attracted to the numerous paintings dotted around the home. "I have a tendency to be modest and was a bit embarrassed at first by the attention he was giving to the paintings. I was also secretly pleased that anyone other than my family liked them."
Claire showed her friend the outdoor workspace she used to make her abstracts and was a little shocked when asked if she would sell two of the paintings. "I didn't have a clue how to put a price on what was essentially something I did for fun." In the end they did agree on a price for two paintings and her friend made a further business proposal.
Maximising a Business Opportunity
Claire's friend owned a popular coffee shop in a fashionable area of town and agreed to hang some of her paintings. By doing this Claire was getting her work seen and customers could buy the paintings, with her friend making a percentage from each painting sold.
A local business magazine editor who frequented the coffee shop saw the paintings and asked if he could interview Claire. "I was surprised but recognised that maybe there was something in my paintings that people appreciated and this made me happier than actually selling the paintings."
Maximising the Sales Potential
Having sold a number paintings and with publicity through a regional magazine, Claire began to look at her options. "I could have just said right this is as far as it goes but people kept asking me how my art work was coming along." Before approaching local galleries Claire took notice of some business advice given to her by a friend.
"I decided to set up my own website that could be used as a virtual portfolio of my work. The website wasn't expensive to set up and meant I could contact galleries and supply a space where gallery owners could view my work." By doing this Claire had set up her own internet gallery within a matter of days and boosted her marketing and sales potentional.
Making the Move from Amateur to Professional
Within two years Claire has had her work exhibited in many local and regional galleries. She has sold paintings through her website and at local craft fairs. "This has become an almost full-time occupation now and I can't believe I get paid for doing something I love." She said.
"I don't think I would have had the confidence to do this by myself and the initial encouragement was important." Another knock on opportunity came when Claire was asked to teach at night-classes at a local college. "Again, this was something I had never considered but it's better to say yes to opportunities and see where they take you rather than limit yourself."
People spend a huge amount of their time and money on their hobbies and past-times. Taking advantage of opportunities and being pro-active when it comes to marketing and sales can mean that a hobby with an actual end product can be turned into a form of income.
You might also like...