Become a Part Time Care Assistant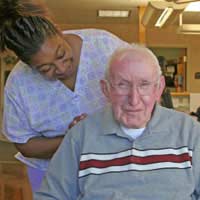 Care assistants work with a number of different types of patients over a wide sector of establishments. Care assistants do work during the day, nights, evenings and weekends, and there plenty of opportunities for part time work.
What Are Care Assistants?
Care assistants work within a variety of establishments. Employment sectors can include residential homes, hospitals, nursing homes and the patient's own home. There are different types of care assistants such as health care assistants where duties can include bathing, feeding, helping with daily activities and dressing. Home help employees are sometimes known as care assistants and their duties can include food preparation and activities such as cleaning the patient's home. Care assistant duties can include taking patient medical information such as recording temperature and pulse rate.
Qualifications Needed as a Care Assistant
Many care assistants start their careers with no actual qualifications. They may have taken the route to care assistant through voluntary work. There are certain National Vocational Qualifications (NVQ) that are specified as job requirements. These could include health, safety, hygiene and personal care qualifications. Home help care assistants can also usually apply for jobs without previous formal qualifications.
Personal Attributes Needed as a Care Assistant
As the name implies, care assistants do require a sensitive and sympathetic nature. They must also be able to treat all patients with respect. Care assistants can work with patients with long term illness and mental problems and a certain amount of character strength is required. Physical fitness is another requirement as this job can involve lifting frail patients. Having an outgoing and sociable nature will be a plus where this type of job is concerned.
Care Assistant Salary in the UK
Salaries vary for care assistants depending on the establishment in which they work. Care assistants can work in private nursing homes or for local authority employers. A general starting salary would be around £9,000 to £15,000 for a full time care assistant. Working as a part time care assistant can mean extra income depending on the shifts. Working for local authorities at the weekends can mean payment of time and half for Saturday and double time payment rate for a Sunday. Wages for care assistants working privately in a patient's home will be agreed between the patient and the care assistant.
Where to Find Care Assistant Jobs
There are plenty of employment resources when looking for care assistant jobs. There are recruitment agencies that deal specifically within this field. Local authority office such as local council social work departments will also be the place to check for care assistant jobs. These will usually be advertised in local newspapers or local job centres. Private care assistant jobs will generally be advertised in local newspapers but can also be found on internet sites such as Gumtree.
Who Can Apply For Care Assistant Jobs?
Anyone who is of a responsible nature should be eligible for care assistant jobs. Skills such as competency in meal preparation may be required and a driving licence may also be needed. Many students do take care assistant jobs as a way to work their way through college or university. This will not be a job for people without patience and understanding. Being a care assistant can at times be an emotional job but it can also be very rewarding.
Follow on Careers for Care Assistants
Many people take on part time care assistant jobs as a way to make an extra income. But these jobs can often lead to other jobs in the same field. Careers related to care assistant jobs can include occupational therapists, healthcare assistants, social workers and residential and sheltered housing wardens. Many of these jobs may require additional qualifications especially for those wishing to become social workers. There is a lot scope for career development in this field in both the private and public sector.
Care assistant jobs can simply be a way for many people to earn some extra income in the evening and at weekends. But many people do enjoy this job and decide to venture further into career related fields. A care assistant job can be an excellent starting point for many social work related positions. Care assistant jobs are not hard to find and there is a demand for employees in this field.
You might also like...