The Best Extra Income Jobs for Students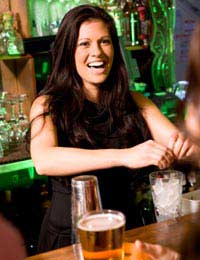 Finances are usually a big priority for students, especially so with the increase in tuition fees. Part-time jobs are one of the best ways to bring in some extra income, and some jobs will be more lucrative than others.
The Benefits of Part-Time Jobs for Students
Apart from the ability to bring in some much needed income there are other benefits to working during the student years. Employers will take notice of employment undertaken by students and will be impressed by those who work their way through university or college. Student jobs are also a great way to make business contacts and can lead to future employment opportunities. Students who live in large cities and towns will have a greater choice in the variety of jobs they can obtain. There are also certain student jobs that will help to maximise earning potential during the university or college years.
Jobs for Students in Restaurants
Working in a restaurant is one of the most popular student jobs. Not only will students receive a basic wage but gratuities can help to greatly increase weekly wages. Restaurant work can also be of great benefit to students who are intending on a career in the hospitality industry. The great thing about restaurant jobs is that the hours are usually evenings and weekends, and work rotas can be fitted around study time. Pay rates for waiters are usually good and meals are often included.
UK Bar Work for Students
Bar work has always been high up on the list of student jobs. Pay rates in cities and towns can vary but can be surprisingly lucrative. There will be some perks such as gratuities, and meals are sometimes included. Most pubs will take on students without experience as the training is fairly easy. Bar work can be slotted in around a weekly study schedule and this is another good job for students intending to work in the hospitality trade. Once the basic bartending skills have been learnt this is a job that can bring in an extra income whenever needed, even after student life has finished.
Clerical Assistant Work for Students
Clerical jobs are usually easy to come by and do pay well. Basic computer skills and typing are the major requirements of administrative jobs. There is no shortage of part time clerical work in the UK and this is an excellent way to pick up clerical skills in an office setting. Part-time clerical work is not usually stressful and some shift work may be available that will mean additional pay. Certain offices are open during seasonal and bank holidays meaning students can choose to earn instead of taking holidays.
Computer Support Jobs for Students
Computer support and Information Technology (IT) jobs are a great way for students to earn some extra income. For students who are studying IT this can be a way to get a foot in the door of IT companies. Not only will this look good on a CV but employers will look favourably on students who already have experience in this environment. Many call centres will hire students with experience in this type of work or they will train up students. Call centres and computer support companies are usually open 24 hours, 7 days a week and can easily be fitted around study time.
How to Choose the Right Part-Time Student Job
Students should not have much of a problem finding a part-time job, especially if they live in major cities or towns. But there are few points to consider before undertaking a job search, these should include:
The job should have flexible hours and should easily fit around study time
Try to keep the job within easy travelling distance to save time on commuting
Consider jobs on student campuses that will eliminate travelling time
Choose jobs that will not be too stressful and won't mean taking work home
For extra income choose jobs where perks are included such as staff gratuities and meals
Contact recruitment agencies who will be able to find a job that will be of interest or in the intended employment field
Recruitment agencies that have been used during student years will also be beneficial once courses have been completed
Students should check out recruitment agencies on the high street and on the internet. This is a great way of researching available jobs that will be of interest. Recruitment agencies will have many business contacts within a diverse range of industries. Recruitment agencies will also be able to source well paying jobs that provide basic benefits such as sick and holiday pay. Part-time student jobs are an excellent grounding in the working world and are the best place to source future employment opportunities.
You might also like...