Create and Sell a Mobile Phone Application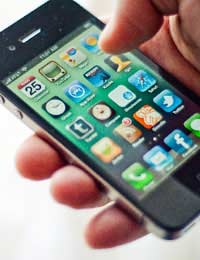 Creating a mobile phone application that captures the public's interest is one way to make a huge amount of extra income. Competition to come up with a best selling mobile phone application is fierce but if successful this is a way to create a passive income stream.
What Are Mobile Phone Applications?
Mobile phone applications or 'apps' are services available on most mobile phones and computers. Apple's best selling iphone has over 300,000 different applications that can be downloaded straight to customer's phones. Applications vary from checking up on problems with London transport to simple fun apps that make strange noises. Customers simply log on to the mobile phone provider's website and download the applications for a fee. Successful application software developers are making it big and raking in enough money to give up their day jobs.
Qualifications Needed to Create a Mobile Phone Application
Coming up with an original mobile phone application does not in itself require any qualifications. An original idea that will capture the attention of the public or provide a useful service can be a winner. But developing the application software will take professional know how. Web designers who have experience of the application language will be a requirement. This can be a team effort with one person supplying the original application idea and the other providing the technical knowledge.
How to Find a Web Designer
Web designers are not hard to find. Placing a simple advert on a site such as Gumtree or Craigslist's 'help wanted' sections should prove beneficial. Nearly everyone knows someone who works in an Information Technology (IT) department, and this could prove to be a good avenue of advice and help. The ideas person can simply pay the web designer a one off fee to design the application or develop the idea with a percentage of the profits going to each person. It is a good idea to have a written contract in place to ensure there are no misunderstandings if an application does become successful.
How to Sell Mobile Phone Applications
Once the mobile phone application has been created the selling process is not too difficult. For example, Apple's iphone website allows apps to be placed on the site and downloaded by customers. Around 35,000 of the iphone applications were specifically designed by Apple but another 265,000 have been designed by outside designers. There are many different company websites where an application can be placed such as Google App Market, Blackberry and Windows Marketplace.
How to Market a Mobile Phone Application
Marketing mobile phone applications means getting the word out through advertising. With the capabilities of the internet this can be inexpensive. If the application is selling then a website should be created to advertise the app. Articles on the app can be written and placed on technology sites and Citizen Journalism sites; this will not cost any money. Links to the mobile phone application purchase page should be included in any advert to direct customers straight to the app.
Mobile Phone Applications and Passive Income
The major bonus with successful mobile phone applications is that once implemented this is a form of passive income. Apart from advertising there is little else to do but sit back and watch the money roll in. This stream of income will continue as long as customers continue to purchase the application. Successful applications can bring in a lot of money. Many popular mobile phone applications have made their creators millions of pounds.
Points to Consider When Creating an Application
Creating a successful mobile phone application will not be an overnight process. Points to consider should include:
Originality is key; undertake research on the applications already selling
Consider how useful the application would be to the public
There are over 300,000 apps in existence, how will yours stand out from the crowd
Applications can be fun or can serve a purpose; consider the route you wish to take
Consider applications that consist of games; games are very popular and bring in huge amounts of money
Applications are not just for mobile phones but can also be downloaded to computers and other devices
Successful mobile phone applications are big money spinners. Over 6.5 billion applications have been downloaded by customers for the numerous Apple devices available. Capturing a slice of this market is not just a source of extra income; it can turn the creators into millionaires.
You might also like...