Time Management When Doing a Second Job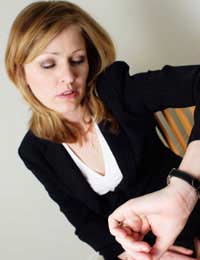 Perhaps one of the most vital things about searching for a second job of any kind is when you're available to work. It doesn't matter if it's working for yourself or for someone else there are only so many hours in a day. You still need to sleep eat, and spend some time with your family, or just simply relax.
That, of course, is the problem – when can you find the time for another job?
Time Management
On the assumption that you already work 40 hours a week, along with time spent getting to and from your job, a big chunk of five days a week is already taken up.
That leaves you with evenings and weekends. But out of that, you need time when you're not working, to run errands, be with your family, or even just complete chores that build up like cleaning and laundry. The old cliché about all work and no play is a very true one.
Before you even begin looking for a job, sit down and calculate not only how many hours you'd be available, but also when. If you have a partner, include him or her in the discussions, since it will obviously affect your home life.
Consider, too, whether this is just a temporary situation, perhaps to pay off some bills, or whether you want a permanent second income, maybe to build up a nest egg for retirement or to buy a new house. If it's just short term, perhaps a few weeks or no longer than a few months, you can spend more time working than you might otherwise, knowing there's light at the end of the tunnel – and make no mistake, it will leave you feeling exhausted.
Once you've come up with a workable time budget, then you can begin looking for a second job. If you have, say, 20 hours a week available, then you can automatically discount anything that demands more than that, or hours that don't fit your availability. It saves both you and potential employers wasting your time.
Yes, it narrows the field, but it's better to do that than agree to start a new job only to discover than you're pushing yourself far too hard and have to quit, or even worse, be fired!
The Job Search
Perhaps surprisingly, knowing the limits of your available time actually frees you up in your job search. Many offices, for instance, aren't open in the evenings or on weekends, so you can eliminate them, unless they state otherwise.
But some businesses, such as supermarkets and big retail outlets, keep evening hours and do a lot of business on the weekends. They can often be flexible with staff as to working hours (within limits, of course).
If you're planning on starting your own business, then knowing how much time you can realistically spend on it is a huge plus. Especially in the early days, new businesses can demand a lot of time or effort. If you only have, say, 10 hours a week to spare, then you either need to re-think or find a business that can accommodate that and still make you a little money.
Above all, remember to keep a balance between work and personal time in your life!
You might also like...