Beware of Online Reshipping Job Scams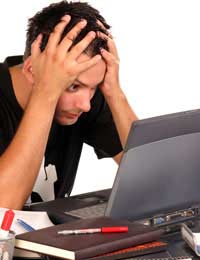 Online reshipping scams have led many innocent people to become involved in internet fraud and identity theft. Shipping and reshipping scams take different forms and can include the victim applying for fake jobs and dealing in stolen goods.
Working from Home and Reshipping Scams
Reshipping jobs are a common way for people to earn some extra money while working from home. But the scammers have now cottoned on to the fact that they can easily move stolen goods using reshipping scams. Many home workers have been duped by this scam and can actually find themselves classed as criminals rather than victims. Home workers are contacted and reply to adverts that offer easy payments for repackaging goods and sending them elsewhere. But in a number of cases the packages to be sent consists of stolen goods.
Reshipping Scam Victims Losing Their Own Money
Victims of reshipping scams can find themselves not only without the desired pay cheques but also paying money from their own pockets. Scammers will inform the home workers that they will be required to pay shipping costs for the goods that are to be reshipped. The scammers will tell the victims that they will be reimbursed for all packaging and postal costs as well as receiving a pay cheque. In the end the victim will not be reimbursed but will have to pay shipping and packaging from their own pockets. The desired pay cheque; it never arrives.
Online Payment Processing Scams
Transferring of funds is another scam that home workers have been falling for. The scammers claim that home workers can make very easy money simply by transferring funds or processing payments. The scammers claim they cannot do this as they are foreign citizens. All that is required by the scammer is the victim's bank details and personal information. Many victims do fall for this request thinking their salary will be paid into the bank account. The bank accounts will then be used to transfer stolen funds and the victims can actually be held liable for money laundering.
Scam Victims Can Become the Criminals
There is a saying that ignorance is no defence in the eyes of the law. This means that if a scam victim is arrested for money laundering or dealing in stolen merchandise they can actually be prosecuted. There is also the case that online payment processing scams involve stolen money and fake cheques. Banks can hold the victim liable for cheques that bounce or for transferring stolen funds through their accounts. Not only will the home worker be out of pocket from the scams but they can face very serious legal consequences.
Being Aware of Reshipping and Payment Processing Scams
There are number of giveaway signs that should alert home workers to the fact that they are being scammed. Points to look out for will include:
The home workers are contacted without applying for any job adverts
The scammers will insist on bank details and personal information
The scammers will inform home workers that they will be required to pay for shipping and packaging costs
Emails from scammers may look legitimate but they will sometimes have glaringly obvious spelling mistakes
Scammers will usually be based in countries such as Russia or South Africa, and grammar and spelling errors will be common
The scammers will not have a registered office address
Do not be fooled by links in the email to well known job sites; this is simply where the scammers find the home worker's details
Find out where the email originated from by checking the email header and domain number
Inform Authorities Immediately if Scammed
It goes without saying that anyone who believes they have become a victim of an online scam should immediately inform the authorities. Scam victims should also contact their banks and close down all credit card and bank accounts. Scammers can use bank account details and personal information for identity theft and fraud purposes. If money laundering or stolen merchandise handling is suspected then legal advice should be taken.
Online scamming is becoming more common, and home workers are being targeted. Scammers will find home worker's details through well known recruitment sites, especially if CVs are placed online for anyone to view. Home workers should be very wary of unsolicited emails offering this type of work.
You might also like...