Job Scams on the Internet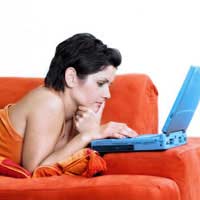 You can find almost everything online, and one thing the Web has no shortage of is scams. It doesn't matter where you go, there are plenty of them, with people eager to part you from your money or your personal information (or both, if possible). Plenty of them occur on websites concerning or offering jobs.
What The Scammers Want
There are really two types of scams online. The first aims to quickly take your money. So ads offering work at home directories that cost money, or the chance to do this or that from home "for a small start-up fee" (which usually isn't that small) are typical of this. Although the scammers will make money, they're essentially small-time. Those who are victims can complain, but because of the global nature of the Internet, tracking them down and trying to prosecute can be difficult. By the time the authorities come close, they could have shut down the website and re-opened under a different name; it's cheap and disturbingly easy to do.
More insidious are those who make you believe you have the chance of a good job and milk your personal details from you. They may even charge you a fee, too, just to add insult to injury. But those details can be sold to other crooks online, and suddenly identity theft enters the picture, which can prove far more costly and hard to correct.
Where To Find The Scams
The short answer is that they're everywhere. Get-rich-quick sites, bulletin boards, online classifieds - they all contain scams. Some of them are so cleverly worded that they can be hard to spot among the genuine ads, while a few are so clumsy that they're immediately apparent.
Watch out for anything that promises a full-time income for part-time work. If it's really that lucrative, why do they need to advertise? Again, if they want money upfront, be suspicious. Some perfectly legitimate businesses have elements of both of these, but if you investigate further, be wary.
If you respond to an ad, don't immediately give all your contact details. In many instances you have no idea whom you're contacting. When you receive a reply, if there's no business name, with street address and landline number, you should be very suspicious. Until you're certain you're dealing with a legitimate company (once you have their details, run an online search on them), don't give out too many details - you need to protect your personal information.
What To Do If You're A Victim
If you're a victim of a straight money scam, probably the best thing to do is grin and bear it, and learn from the experience. You can complain to the Office of Fair Trading, giving as much information as you have. If they find the perpetrators, they will prosecute, but tracking them down (especially if they operate from another country) could prove impossible.
In the case of identity theft, inform the police, and be sure you receive a crime reference number. You'll need that when you contact your bank and credit card companies. Change every single one of your computer passwords, and don't make them all the same. Make sure your firewall and antivirus are up to date, and scan your machine regularly.
Contact your bank and credit card companies. Again, be sure to give the crime reference number. Cancel the account and ask for new cards to be issued with different numbers - the same applies to your bank account.
After that, contact one of the credit reference agencies. It only costs £2 to buy a copy of your credit file; once you receive, go over it thoroughly and make sure everything is in order. When you contact them, use that crime reference number once more, inform them you've been an identity theft victim and ask them to place a fraud alert by your name.
Unfortunately, there's more. You also need to contact the Passport Service and the DVLA. With luck, if you catch things early enough, you'll get off without suffering too many headaches.
You might also like...