Pros and Cons of Working from Home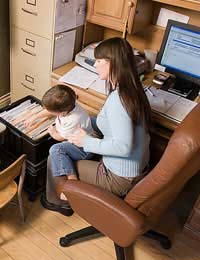 For many people working from home sounds like the ideal scenario. But there are some pros and cons to running a business from your own home.
The Pros and Cons of a Home Business
Anyone who has run a business from home will know that it is not all working in pyjamas and freedom from the boss. Working from home does give a certain amount of freedom that doesn't usually exist with a nine to five job. But there are certain downsides that may not actually occur to those starting a home based business. Successfully running a home business will usually take more self-discipline than needed in a traditional working environment.
Working From Home Requires Discipline
Working from home does take discipline. This means setting aside specific hours that will be used solely for work, without interruption. This may be easy for single people, but for those with families and young children it is very easy to become involved in other activities. Home workers can very easily find themselves working late into the night because of distractions. Similarly, the chance to 'pop out' during the day can easily eat into working hours.
Distractions Can Be a Time-Waster for Home Workers
People who work from home can often face one common problem; visitors appearing throughout the day. For some reason many friends and family members think that working from home equals always on call for a visit. Distractions such as visitors or constant phone calls throughout the day can easily eat into working hours. If this does occur the home worker will need to put their foot down. Hang a virtual 'do not disturb' sign by making friends and family aware that certain hours are for work only.
Home Workers Should Stay Active
Home workers can pile on the pounds if their job isn't physical. Sitting at a computer all day is not in the least bit physical. A traditional commuting job will usually mean a certain amount of walking and at least some fresh air. Working from home can simply mean sitting at a computer all day with a walk to the fridge becoming the only exercise. It's important that home workers try to get some exercise throughout the week, and not just walking to the corner shop.
Home Working Can Mean Less Social Contact
Workers who love keeping up with office gossip around the water cooler might not find home working the ideal environment. The network of colleagues throughout the day doesn't really exist for lone home workers. Working from home can mean long hours of isolation. The non social aspect can be one of the hardest things to acclimatise to. It can also mean that clicking onto Facebook becomes an exceedingly tempting habit. One consolation is that a round of drinks at the 'office Christmas party' is less expensive for the home worker.
The Pros of Working from Home
There are of course many benefits to working from home. These can include:
Saving money and time on commuting to and from work
Money can be saved on not having to constantly buy new work clothes
Working from home can mean more freedom if time can be managed effectively
Home workers do have the ability to choose their own hours
Working from home is a cost effective way of starting off a business intended for future growth
No more office politics or working with disagreeable colleagues
Managing work hours effectively can mean spending more time with the family
Learning to Switch off When Working From Home
One of the biggest problems faced by those who work from home is knowing when to 'switch off'. Separating home from work life can often become a problem when the two overlap. Home workers will benefit from having hours specifically for work only; after this time limit is up it is time to switch off. Workers who do not set aside specific hours can find themselves constantly thinking about work. This can be very irritating to partners or spouses when work is on the agenda at all hours.
Working from home can certainly bring newfound freedom to those who are disciplined enough. But there are aspects such as the solitary nature of home working that will not suit everyone. For those who can balance the work/home ratio successfully it can open up a whole new work experience with many employment opportunities.
You might also like...