Sell Your Services as a Virtual Assistant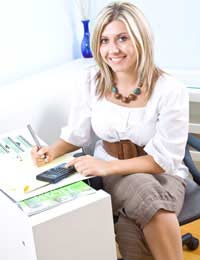 The internet has created many new types of jobs and opened up new ways to obtain employment. Anyone with good administration, accounting and secretarial skills can sell their services as a virtual assistant.
What Exactly is a Virtual Assistant?
A virtual assistant is a person who works from home helping employers with a variety of duties. Many small and medium businesses do outsource a number of work tasks to virtual assistants. This is an excellent job for stay at home parents or people who simply need to earn some extra income on a part-time basis. Assignments can be on a long or short term basis and can be full time or part time as desired. Anyone who has a wide range of skills can become a virtual assistant or they can also specify a particular skill that they have to offer.
Skills in Demand as a Virtual Assistant
There are a number of different services that a virtual assistant can provide. These can include bookkeeping, typing, answering services, secretarial work and accounts work. In fact, there is no real limit to the type of skills that can be sold when it comes to being a virtual assistant. If an employer wishes to hire a home worker for a certain part of their business then this can be classed as virtual assistant employment.
What Are the Benefits For an Employer Hiring a Virtual Assistant?
Hiring a virtual assistant can save an employer a great amount of time in conducting a job hunt. Many employers use agencies that specifically recruit virtual assistants. This means assistants have undergone checks such as references and work experience. An employer can simply contact the virtual assistant agency and request the type of help he or she requires. Employers also do not have to pay sick leave or holiday pay when they use a virtual assistant, and no extra employee equipment such as computers is needed.
The Rising Popularity of Virtual Assistants
Virtual assistants have become a very popular alternative to hiring on-site employees. But this type of assistant has also become a necessity for people who run their own business from home. Many home based business owners have neither the time nor the skills for many office based tasks. Virtual assistants are vital when it comes to helping home based business owners complete tasks such as admin and secretarial work. Having a virtual assistant on hand to complete these tasks can save both time and money for business owners.
Skills and Tools Required to become a Virtual Assistant
Apart from certain employment skills and experience there are other requirements that will be needed for those who wish to become virtual assistants. These will include:
A separate home telephone line
Good broadband connections that can easily transfer files
A flexible attitude with the ability to cope with stress and deadlines
A good telephone manner and good communication skills
Very aware of confidentiality and security issues
Excellent computer skills covering a range of office software packages including databases
Having foreign language skills is not essential but will widen the job market
Self discipline, good organisational skills and the ability to avoid distractions are essential for people who work from home
Hiring Yourself Out as a Virtual Assistant
People who are able to promote and market themselves effectively will have a head start in the virtual assistant market. There is a huge amount of people with skills that can be utilised and standing out from the crowd is essential. There is always the option of creating a virtual assistant website, and this can be undertaken at a relatively low cost. Once a virtual assistant has a few clients word of mouth can quickly spread. Placing glowing client references on a website can make all the difference to a growing client list.
Register with Virtual Assistant Recruitment Agencies
There are virtual assistant recruitment agencies on the internet. These agencies will check references and previous work experience before adding a person to their virtual assistant list. Once on the agency's list, employers will be able to browse and choose virtual assistants to match their needs. Virtual assistants who do have a wide range of skills and years of work experience may be the most in demand. Remember, a recruitment agency will take a fee from the client before paying the virtual assistant.
Excellent self promotion and marketing skills along with a wide variety of employment skills will be beneficial when breaking into the virtual assistant market. But once a few clients have been retained and a client list begins to grow this can be a very good source of income.
You might also like...
Looking for information on becoming a Virtual Assistant and working from home.Can you help?ThanksKaren
kakarich
- 4-Apr-11 @ 8:04 PM