Putting Money Aside for Special Projects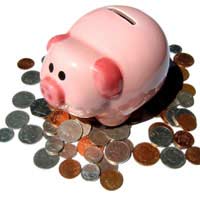 It always seems that there are more things we want than we have money for, doesn't it? It might be a big family holiday, a new car, or perhaps some remodelling on the house. Those projects can be one of the main reasons we decide to seek an extra income in the first place. But life has a habit of intruding on the best-laid plans. Prices go up, there are more bills to be paid, and somehow all that extra income is swallowed up. Yet those projects are still there, waiting, and more might well be added to the list. What you need is a plan in order to be able to afford them.
Creating A Savings Plan
Even with extra income, the amount of money coming into the house is finite, and paying bills has to be the first responsibility. But if you have money left, what you need to do is salt at least part of it away.
If you don't already have a savings account with a bank or building society, look around at the rates, see who's offering most interest, and open an account with them – in many instances, all you need is just £1 to open an account.
Having opened the account, you need to make a commitment to yourself that you'll add to it regularly. Even if it's as little as £5 or £10 a week, save regularly and faithfully, and the money will begin to accumulate. It might be slow, but in time you'll be able to afford at least some of the things on your list, and there's great satisfaction in adding to the amount and receiving your statements and watching the total increase.
Other Ways To Put Money Aside For Projects
It's wonderful to be able to pay in full, in cash, for something you've desired. There's definitely a feeling of having earned it – and you have. Sometimes, however, those projects can't wait until you have every penny in the bank. Perhaps you discover that the roof is leaking and needs to be replaced, for instance, or your boiler breaks. At that point you have to take quick action.
You will probably need to take out a loan, and that, of course, means repaying it. So you have to put aside some of the extra income you earn for those repayments. That's a harsher mistress than the savings account, where no one will be calling you if you miss putting money in the bank, but it does force you into a schedule. The money isn't being put aside as such, but it's still being given to a specific project.
Saving To A Schedule
If you're planning a big, special holiday – say a trip to Australia or America – then look at the cost for the whole family and decide when it might be feasible to go. Don't rush things; be willing to look a couple of years into the future. With that price in mind you can calculate how much you need to save each month (and allow for money to spend whilst on holiday) and you can begin putting money aside each month into a special savings account to make it happen. It's a way of forcing yourself into a savings schedule, and you can apply it to other projects, too.
The only real certainty is that as long as you're alive and there are things that you want to do, you'll never run out of the need to earn an extra income, however large or small, and use at least some of it on that endless list of projects!
You might also like...