Save for Your Children's Education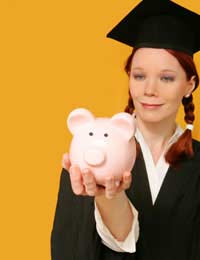 University isn't cheap. The days of widespread student grants are consigned to history, which means that children need financial aid, whether it's in the form of student loans, working to pay for their studies or looking to mum and dad to foot the bills. Of course, we all want to help our children as much as we can, but most of us don't have enough spare money to readily lavish on our offspring. It can be one of the reasons we want to earn more money, in order to fund that education.
Starting To Make A Savings PlanSaving for education is a long-term project. You're not going to make enough extra income in a single year to fund three years of university. The tuition fees alone will run at least £10,000 for the three-year course. Then, on top of that, there are also living expenses, and those aren't going to be cheap over the length of a university course.
It's going to take a number of years to put that amount aside. That means planning well ahead – when your child starts secondary school actually isn't too early. Now, that might seem to be putting the cart ahead of the horse (how do you even know your child will want to go to university?), but it actually offers you a lot more freedom and time to save.
The longer you take, the easier it is on your pocket. Once you take on your extra job, open a savings account and begin putting in a certain amount each week. With seven years in which to prepare, you'll need to save at least £2,000 a year – and you'd better be prepared to top that up when your kids are studying!
The great advantage is that, having so much time, you can find a savings account that offers a higher rate of interest for a longer commitment. Be sure to take your time shopping around to find the best deal.
The Best Way To Save
Knowing you need to put in so many years in order to find the education can make it seem like a long, long slog ahead of you. But once you calculate how much you need to put aside each year, you can break that down to how much needs to go into your savings account each week or month. Make sure you stick to that amount and you should find you have some left over for your own pleasure – so at least you'll have some immediate gratification, too, or for other family projects.
Stick to the schedule you make and the amount will grow, month by month, year by year. The real joy, of course, will come when you see your child get his or her degree. It might be a long way off, but that moment will make all the work worthwhile.
Paying For Private School
Of course, university isn't the only type of education that costs money. You might feel that a private school offers your child a better opportunity than a state school – and that means you have to afford the fees.
It's not cheap – a few thousand a year, at the very least, which could easily eat up most of your extra income. But if you're determined, put all your extra income aside for the education. It will probably be more than the fees, but by stashing the surplus into a savings account you're not only providing yourself with a cushion, but also saving for the time when university looms on the horizon for your child.
You might also like...