Running a Successful Weekly Car Boot Sale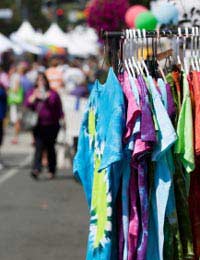 Weekly car boot sales occur all over Britain and are a good way of bringing in some extra cash. But successfully running a car boot sale is not just a case of turning up and selling goods.
Choosing the Right Location for the Car Boot Sale
Most cities, towns and villages will hold weekly car boot sales in more than one location. Some sales attract thousands of customers every week looking for a bargain. But smaller sales may be beneficial as there are less traders vying for the customer's cash. The problem with huge car boot sales is the number of traders selling the same goods. Research car boot sales in different locations to see if there are any goods that are lacking.
Research How Much it Costs to Sell
There will usually be a set price to sell goods at a car boot sale. This can be paid on a weekly basis, which means turn up and pay whoever runs the sale. But there are also permanent pitches with containers where goods can be stored; this will be useful if the intention is to trade every week. Permanent containers will usually cost more and this should be taken into account when it comes to profit and loss. On the plus side having a permanent pitch means the trader will be in the same location every week where regular customers can find them.
Actively Research Items Sold By other Traders
It's a good idea to go to the intended car boot sale location a week before to view the items being sold. One of the problems with car boot sales is that a great number of people are selling exactly the same goods. Books, DVDs, CDs and clothes are the usual items sold on hundreds of stalls at the large car boot sales. This means that buyers will expect to haggle over these items and will simply walk away if the price isn't low enough. Supply and demand is key and traders selling unique items will usually attract more interest.
Get to Know Your Customers
Many customers turn up week after week without fail to the same car boot sale. Car boot sales are usually held on a Sunday and it's a fun day out grabbing bargains for many people. Making a connection with customers, being friendly and engaging in conversation will bring customers back. Customers at car boot sales will expect to haggle, it's all part of the boot sale experience. But they are less likely to haggle more determinedly if they are on a friendly basis with the trader.
Don't Label Goods with Price Stickers
Professional car boot sellers will generally never label their goods with price stickers. This takes away the haggling element, and if a customer does not like the price they see they will simply walk away. Have in mind a bottom line for the price and don't part with the goods for lower than this. Professional dealers will turn up to car boots sales very early and will be looking to offer low prices. If they don't offer a good price don't take it; they will come back later in the day if they are seriously interested.
Always Take an Assistant When Running a Car Boot Sale
There are a number of positive reasons for using an assistant. The obvious reason is to help sell goods and to cover when breaks are needed. As with shops, there will be sneak thieves looking for an opportunity to help themselves. Having two pairs of eyes will mean that the stall is covered when busy periods occur. The downside of having an assistant is splitting the profits or having to pay a set amount in wages.
Don't Use Hard Sales Tactics
Customers hate to be hounded when they are trying to browse through goods. Keep sales tactics to a minimum, most customers hate pushy salespeople and the same goes for car boot sales. If customers do have questions they will ask and that is the time to engage in sales related conversations. Pushy salespeople are more likely to lose sales that to win regular customers.
Car boot sales can be a lot of fun and can make a weekly profit if run successfully. Most car boots sales won't bring in a fortune every week and profits should simply be seen as some additional income. For successful traders this additional income can soon add up over the course of a few months into a regular income.
You might also like...