Doing Telephone Work For Extra Income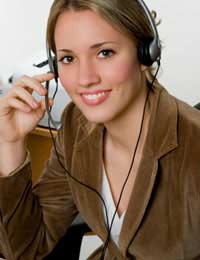 One of the commonest ways to earn some extra money is by phone work. There are ads appearing all the time for employees at phone centres or small companies, and for those with the right temperament, it can provide a good, steady second job.
But not all phone work is the same. It can be selling, taking surveys, or simply there to answer calls and questions about a product or service. Some is harder than others, and some more satisfying.
The Basic Types of Phone Work
Probably the toughest type of phone work is telesales. You're calling from lists of people (they will generally pop up on a screen in front of you) who generally have no knowledge or interest in what you're selling, often in the evening, since that's when they're likely to be home, and you'll be interrupting an evening meal or relaxation - you've almost certainly been on the receiving end often enough. It's what's known as cold calling, and you have a brief few seconds to try and establish a rapport and repeat your pitch, which comes from a written script.
All too often the phone will be put down, or you'll receive a simply no or no thanks (and quite possibly worse). Even when you finish the pitch, the odds are still stacked against you. That's why companies need to employ so many people, simply to come up with a few leads and sales.
Surveys are a little easier, since you're not trying to sell anything. But you are still asking people for a valuable commodity - their time - and there will be plenty of rejection. Once you have agreement, though (and it will be a higher rate than sales), you'll still need to go through your questions, word for word, and note the answers. It's certainly less frustrating than sales, but still not easy work.
For most people, the best option in phone work is to be in a call centre taking calls. Here, at least, you're not cold calling, but actually trying to help people. It could be with a technical problem, or general queries about a product or service. You will receive training, ranging from basic to advanced, and there will be variety in the calls. Additionally, you have the chance to build a rapport with the callers, identifying and solving their problems.
The Problems with Phone Work
There are constantly employers wanting people for phone work. That's because it's a job that's just not right for most people. It doesn't matter if you can stay on the line for hours talking to a friend, paid phone work might not be right for you.
In many instances you're repeating a script, and having to put up with a lot of rejection. You're talking a lot, probably more than usual, and saying the same thing over and over. It can become soulless, and many find it depressing. Additionally, because many phone jobs are generally classed as unskilled work, the rate of pay is low. All of those factors lead to a very high burnout rate, which happens quickly, and causes a swift turnover in staff.
The Advantage of Phone Work
If it meshes with your personality, and you're not expecting to make a fortune, phone work, especially when you're taking, rather than making, the calls can prove to be a good long-term second job opportunity.
You might also like...