Taking a Sales Jobs as a Second Job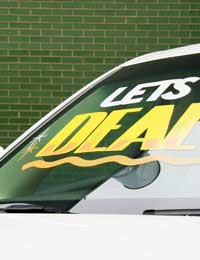 If you're looking for extra money, one good field with a constant demand for staff is sales. "Sales" covers a lot of ground, from clothes to cars to houses and beyond. It effectively covers every aspect of retail, including those people who work in supermarkets.
There's work there to be had, and fitting it around any other job you have is often quite feasible. But what, if any, area of selling is right for you?
Hard Sales
Selling houses and cars can be difficult. A lot depends on the economy as to whether people want to go out and make large purchases – as well as on their credit. Salespeople in these fields need to know their products, if they can deal a little (especially true with cars!), and what make good selling points to different types of customers.
While the base income in some areas of sales can be low, or even non-existent, commissions can be quite high, but you will have to work hard for them. It's a field that demands intensity, you have to be on your toes the whole time, and often pushing intensely for the customer to buy.
Generally, the people who work in this do it full-time, and it definitely takes a certain type of person to be even moderately successful, with a high burnout and failure rate. If you have a prospect who can be made into a buyer, you'll need to stick with them until the sale is closed or lost, so you'll need to be flexible with your time. Still, if it's for you, the opportunities are there to make very good money, although you'll really work for it as a second income – and beyond the base, there's no guarantee as to how much you'll make. If you're not good, you probably won't last long.
Retail Sales
In most cases, retail sales involve the customer coming into a shop to make their purchases. It doesn't matter whether it's clothes or a newspaper, the idea is the same. Your job is to serve them and make sure they buy what they want with the minimum of problems, so they'll come back to shop again.
As a rule, retail work isn't highly paid, although sales staff can see bonuses and incentives. As many shops, especially in shopping centres, keep long hours, there's often a need for part-time staff to fill out the roster, meaning it can be a good complement to any full-time job.
In most shops, aside from the very upmarket ones, it's not an especially demanding job, making it ideal for extra income. You'll know how much you're making per hour, and your working hours will generally be set. If you stay in the company's employ for a while, you'll probably also qualify for an employee discount, and if the store sells items you want, that can end up saving you money, too.
Other Retail Jobs
There are other retail jobs that don't directly involve selling, such as working in a supermarket. You're still in a retail environment, but you're not actively selling items. There's generally plenty of part-time and seasonal work available, and the hours can be set to accommodate your other commitments.
Once again, you'll know what you're making and when you're working. Many big chains also have pension plans, as well as employee discounts. Working part-time you might not have much to put in towards a pension, but if the employer matches it, the sum can add a nice little extra after retirement.
You might also like...