Make Money Through a Home Party Business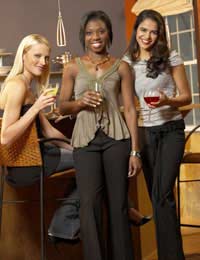 There are many ways to make extra money. But one that's favoured by quite a number of companies is the home party. This is where a company representative, usually someone covering that neighbourhood, organises a party at someone's house to demonstrate the products. There's fun, plenty of laughs as friends get together (and often a few glasses of wine!), and quite a bit of product bought.
The representative receives commission on the sales, the person who holds the party gets some free items, and with a number of people gathered together, there's some peer pressure to make a few purchases. Essentially, though, everyone goes away happy, although one or two might end up spending more money than they'd originally intended. However, as the items are usually quite inexpensive, that's hardly a disaster.
It's usually groups of women who assemble for this – historically, this type of party has been a very female thing, and generally continues to be so, a sort of hen night where they can let their hair down a bit. Also, as it was usually women in charge of the house, and originally the items were household goods, there was a kind of logic to it all when it began in the US with companies like Tupperware.
The Advantages
The biggest plus for everyone is that the party becomes a social occasion, with most people already knowing each other – even the salesperson. The atmosphere is relaxed, and it feels as if there's no pressure, although in a subtle way there really is.
The product demonstration becomes part of the party, and feels less like selling. The items can be almost anything these days – even Ann Summer is in the home party business, a boon for those who might feel embarrassed about going into the shop – and there's often a lot of joking, as well as a few games to keep the atmosphere light.
It can be easier for people to schedule an evening like this than to have the salesperson in their home, with all the demands of the family around; the time is blocked out for this and this alone.
To the representative, of course, it's perfect. There's a captive audience that's generally in a mood to buy. Some companies, especially cosmetics firms, estimate that the average party will bring in £250 worth of orders. If the rep has a couple of parties a month, the commission can easily add up, making it an excellent second job that doesn't require a great commitment of time.
The hostess, of course, also receives free gifts, as thanks for her time and the use of her house. So it becomes a situation where everyone wins.
The Disadvantages
For those attending, there's the pressure to buy and be a part of the crowd, meaning people end up purchasing items they really neither need nor want, so as not to be left out.
It might seem like a relaxed way of doing business, but for the reps it's not. They have to be "on" the whole time, keeping people entertained, as well as gently selling, which can prove stressful. On top of that, there's also the pressure to keep organising parties, which means finding people to host them – not always an easy task if you're trying to put on two a month. It can be financially rewarding, but it also requires a large circle of friends and acquaintances to make it succeed.
You might also like...
@anna - you don't need any permission - just your insurance, which you have already. Good luck.
Cathy
- 28-Apr-15 @ 11:57 AM
I set up my own business a couple of years ago, making and selling craft items. I've often been asked if I can do home parties... How do I go about this? can I just do it or do I need to get permission or something? I have public liability for my business already.
anna
- 25-Apr-15 @ 1:42 PM