Get a Licence For Your Business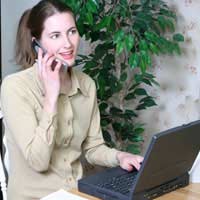 There are plenty of excellent business ideas out there that can bring in a good, steady second income once they're properly established (remember, though, that the majority of new businesses do fail in the first year, so plan well).
But you need to be very aware of all the legalities involved when you start a business. Not only will you be self-employed, but many types of business require licences.
Types of Licences
It's impossible to list every sort of business that needs a licence - there are simply too many - but there are categories that can offer general guidelines. If you're setting up a catering business from home you might not need a licence, although you will have to register with Environmental Health at least 28 days before you open and be inspected. But if you're setting up, for instance, some kind of mobile catering, then you will need a licence.
If your background is in finance and you have the appropriate qualifications, you might have considered becoming a part-time financial advisor. That's fine - but make sure you have the appropriate licence before setting up in business.
A number of people drive as a second job, but you'll need the right type of licence for the kind of driving you're doing, and if you're considering being a one-man taxi outfit, you'll need a licence for that. There are also different kinds of licences for limos and drivers. You even need a licence to become a hairdresser!
The body to contact to find out whether you need a licence for your business is the local authority. They'll put you in touch with the appropriate depart which will be able to answer your questions and supply the forms where necessary. Don't assume that no licence is necessary - it's better to ask and discover rather than be caught out later than risk having your business closed and the possibility of a fine.
Insurance
You might not have considered the fact that most businesses need specialised insurance; it's often a legal requirement of doing business. Financial business, for instance, must have indemnity insurance.
If you're dealing with the public at all - and most businesses do - there will probably be a type of insurance that's necessary. Again, the local authority will be able to advise, no just on the type, but also on the minimum limits of insurance required. The Association of British Insurers is also an excellent resource when researching business possibilities and legalities. Even pet grooming means insurance.
Health and Safety
People complain about health and safety regulations, but their intent is certainly good. If you open a business with direct contact with the public, and certainly if you employ staff, you'll need to comply with the regulations. What they are depends largely on the type of business, and details on those can be obtained from the Health and Safety Executive.
Negotiating the Legalities
Simply reaching the stage where a business is up and running can often seem like an uphill struggle, and certainly there are often a number of hurdles to jump along the way. However, once everything is settled and running, a small business can bring a long-lasting second income and a strong measure of security.
You might also like...