Extra Income from Renting Out a Room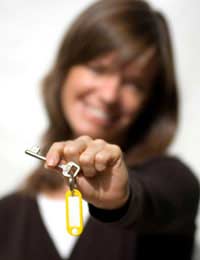 Many people have a spare room that could easily be turned into a lucrative source of extra income. There are factors that will make renting out a room a more viable option especially if your property is located in a large city.
Why Rent Out a Room?
Renting out a room is an easy way to obtain some extra income that can help pay a mortgage, split rent money or just bring in some extra cash. This idea won't be for everyone but it is really just extra cash for very little work. The only outgoings are the money to place the room for let advertisement and the additional energy bills. The government also allows room renters to make £4,250 before they need to start paying tax.
Property Location and Extra Cash
Location will be a major factor on how much you can earn from renting out a room. If your property is in the middle of a busy city, close to universities and nearby facilities then the rental amount can be at the top end of the scale. Many rooms to let in London go for around £100 per week excluding bills. This works out at just over £5000 per year in extra income; definitely not to be sniffed at.
How to Rent Out a Room
Landlords can advertise and vet tenants themselves easily enough. This will mean seeing prospective tenants, obtaining references and cash deposits. Alternatively a letting agency can be used but this will involve agency fees. However, an agency should have already vetted any prospective tenants so that is one less factor for the landlords to deal with. A good idea is to approach a local university and place an advert with details of the room on the student union boards. This can be an inexpensive way to find tenants.
Make Sure Contracts are Drawn Up
Contracts do not need to be drawn up through a lawyer but they should list exactly what is expected of both tenant and landlord. Details should include payments of rent, utility bills, and deposits. The contract should also list other issues such as cleaning of rooms, late night or overnight guests, smoking issues, etc. Anything can be included in the contract but the details should be discussed between both parties and there should be room for negotiation.
Consider Renting Part Time
If you are not happy with the idea of a full time paying guest then consider the idea on a part-time basis. Large cities such as London and Edinburgh are major tourist destinations. You can advertise your room on a nightly or weekly basis especially during the holiday seasons or when festivals are being held. This may be the ideal option and nightly fees can work out a lot higher on a part time basis than renting out a room full time. Landlords can charge around £40 a night during the holiday season especially if targeting holiday makers.
Considerations to Renting a Room
There may be some financial outgoings to consider such as furnishing the room before letting. Making insurers aware of the situation will also be advisable and landlords may have to take out extra insurance. Homeowners with mortgages may also have to let their lenders know of the situation. Those who rent a house may also have to let their landlords know they are considering letting a spare room before advertising.
Don't Just Rent Out a Room
It's not only rooms that can be rented out. Driveways and garages in busy city centres go for a premium, especially where there a high number of commuters. Parking in cities such as London is a nightmare and the congestion charges also add extra. Letting agencies are always on the lookout for homeowners to rent out driveways and garages to commuters. This can bring £50 per day and upwards depending on the location. Again, it's basically extra income for not much effort at all.
As an extra income idea letting a room can be one of the easiest ways to bring in some cash. However, those letting the rooms should have a degree of tolerance towards their tenants. Living with strangers isn't for everyone, even if they are paying, and compatibility issues should be considered before renting a room.
You might also like...