Get Rich Quick Schemes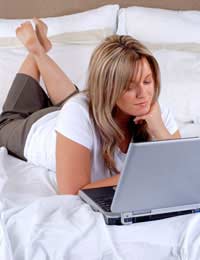 There's an old saying that goes 'If it seems too good to be true, then it probably is.' It's a warning you can apply to everything in life, but most definitely to job opportunities that promise you the moon.
When you're looking for a second income, you'd ideally love something that's going to bring in lots of money. If it can do that quickly, that's even better. So you'll probably look at these schemes – these days you'll find most of them online – and weigh the possibilities.
After all, they can sound quite plausible, and there will always be plenty of testimonials from people who've tried it and ended up making more than they'd ever dreamt. If they can do it, why not you?
What To Believe
The short answer is don't believe anything without plenty of evidence – and that doesn't include testimonials on a web site (you'll notice that they never contain the contact details of the people involved!). What you need are facts and figures, as well as the chance to talk to people who've become wealthy using the plan (ask for several different names, not just one or two who could be planted by the company).
Don't be hoodwinked by all the talk of money. That's all it is – talk. In all likelihood, the only people making money are the ones behind this, since, in almost every case, it's nothing more than a scam.
If there's no landline number or valid address, that should immediately raise your suspicions. Legitimate businesses always have full contact details. If they don't, you have to wonder what they're trying to hide.
Anything that promises a lot of money for very little work is unlikely to be real. If it was true, everyone would already have latched on to it, and it wouldn't be the "great secret" the ad claims.
Do they ask you to spend money on something? The chances are they do, since the materials that can free up your wealth can't come free. How do you think they make their money? It's from all those who are willing to spend in the vain hope they'll become rich.
What To Do
Tempting as some of these schemes might be, the best answer is just to ignore them. You won't make a huge second income from them – in many instances, you'll be lucky to even make a minimal one. Be certain there's a market for this product.
If you do choose to go for it, remain very wary. You might be lucky and find one of the plans that does help you make money, but those are very, very rare, and always require a lot more work than you're led to believe, probably involving far more time that you really want to invest in a second job.
Don't send money without a thorough investigation, and be sure they have a refund policy in writing. Be aware if the work requires you to register with the Inland Revenue or some other government agency.
You can also contact the Office of Fair Trading and see if there are any complaints against the business. That said, many of these outfits change names on a very regular basis.
The easiest solution is to simply not believe a word and don't become involved. The odds are heavily stacked against you finding that gem that's real. To find it you'll wade through a lot of dross, probably lose a lot of money, and certainly a lot of time. It's simply not worth it. The get rich quick schemes simply don't help you get rich.
You might also like...