How to Spot a Job Scam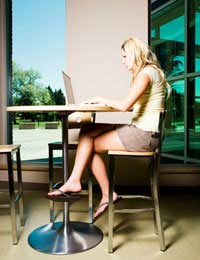 If there was one foolproof way to spot a job of any type, then there'd be no more scams. But scammers are clever, and they know how to prey on the hopes and desires people have.
When you're looking for a second job, especially if you're searching online – although not all scams are by online, by any means – they make it sound as if the opportunities are there to make a full-time income in just a few hours each day. They're lying to you.
That job stuffing envelopes might sound good, especially as it lets you work from home, but don't realistically expect to make any real money at it. Those home working directories that promise to direct you to people employing people? The only names you'll find in there are other companies doing exactly the same thing. It can sometimes seem like a situation where you can't win.
The Basics
Scammers make their money from you, so one thing they all have in common is the requirement that you pay upfront for whatever they supply. To be fair, a lot of legitimate companies do that too. But a reputable firm will have a refund policy in writing and be happy to supply an address and landline phone number. Scammers like to operate under the official radar, so you won't find a landline, and if there's an address, the odds are it's nothing more than an accommodation address.
Anything that promises a lot of money for a little work, or a lot of money for very easy work, is probably a scam. Tread very warily if you contact them.
The Golden Rules
These won't help you spot every scam, but they should at least help you avoid many of them as you search for a good second income.
Don't believe what you read. If it promises that you'll get rich quick, doubt it. The more sceptical you are, the better.
Be sure about the company you're dealing with. Are they who they claim to be? Do they have a landline number (if yes, ring it and check) and proper streets address?
Ask for references, and that doesn't mean just one or two. Insist on a list of ten (at one or two you might just be calling the scammers themselves), and call them.
Never send any money until you've investigated the company thoroughly.
Does the work involve selling a product or a service? If it does, first of all ask yourself if there's a market for it. Will you make money?
A company might feel charitable and offer an advance on your pay. This is actually a classic scam. You bank the cheque, then they contact you to say you've been overpaid, and you have to refund the difference. You do so in good faith, then a few days later your bank contacts you to say their cheque to you has bounced.
If you have any doubts whatsoever, contact the Office of Fair Trading and see if there have been any complaints against the company. Beware, though – these companies change names the way many people change clothes.
The unfortunate thing is that so many of the job "opportunities" you'll find – especially for working from home – are scams. But the more you know, the less likely you are to become a victim.
You might also like...