Good Sources of Extra Income for Students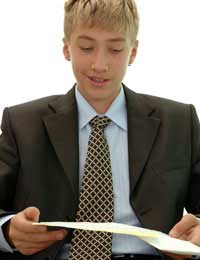 There's one thing certain about student life – unless you have incredibly generous parents the money never goes far enough. Often, as you head towards the end of term, things can be stretched pretty tight, with your overdraft running close to its maximum.
You need a job that can work around your academic commitments.
Plenty of people think that student life is easy, attending a few lectures and indulging in a lot of partying. But, in order to do the work properly, students put in a lot of hours on research and coursework. Their expenses are high, too. Apart from rent and food, books can be extremely expensive, even if purchased second hand.
Students Jobs
Obviously, lectures and coursework have to be the priorities for any student, so a job has to fit around those commitments, which means working part time. However, it's possible to have a regular availability (evenings, for instance) which can be attractive to a potential employer.
There are also the holidays to be considered. Students have long breaks, especially over Christmas and summer, and many return home for those periods, which can make employment a much trickier proposition. After all, employers want someone who'll show up when needed, not gone half the time. But if you plan on spending most of the year, even holidays, in your university location, you can end up with a big plus against your name.
Types Of Employment
The obvious first place to look for a job is at your university. They invariable have some part-time jobs for students, although these tend to be snapped up quickly. But some, in different departments, might require special skills, so if you have them, it's always worth asking.
Supermarkets and retail shops can be a prime source of employment for students, and often flexible enough to deal with the academic schedule. They're not known for paying high wages, but you can still earn enough to supplement that loan and stop yourself falling too much into the red.
The Christmas season is a very fertile period for student employment. Businesses take on extra staff to cope with the holiday rush – everyone from the Royal Mail to Sainsbury's hires people for the busy few weeks. Of course, it's not permanent, but it can offer a useful little top-up to the bank account.
The long summer holiday, too, can be a good opportunity to work. There's a long stretch, and, if you can find a full-time job, you can earn a fair amount towards your next year. It's especially useful if you can find employment in a field related to your degree, since that not only brings in money, but also looks good on your CV (and if you impress your employers, they might keep you on part-time during the academic year). That's good advice, too, when you begin looking for a term-time part-time job – your uni experience could prove useful.
Beyond that, apply anywhere and everywhere. First try the type of places you'd like to work (music and video game shops, perhaps?), and branch out from there, starting close to where you live. It might take some time, but the chances are that you'll find a part-time job sooner or later.
You might also like...