Working as a TV and Film Extra: Frequent Questions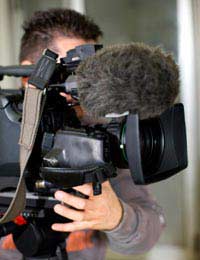 Working as a TV and film extra can be both fun and bring in additional income. Extras or 'background artists' are the people you see milling around behind the main characters or in a battle scene or simply walking by on a street scene. Working as a TV and film extra can be a way of gaining entry into the world of acting without actually studying the art.
How Can I Become a TV and Film Extra?
If you live in a major city in the UK such as London then there are extras agencies that deal with TV and film work. Extras agencies work similarly to temp agencies and will have people on their books that they can then put forward when jobs come up. Have a look at ukscreen.com that holds a list of extras agencies. Simply give the agencies a ring and ask if they are looking for people or if you can register with them.
Do I Need Acting Skills to Become an Extra?
In most cases acting skills will not be a requirement, although don't mention this to the professional extras. Professional extras do this job full time and some view the extra work as a way to break into the acting world. Most extras will never be expected to say any lines whatsoever. The more skills you do have such as horse riding, dancing and fencing skills then the more chance you will have when these skills are used in the TV and film work.
How Much Money Can I Earn as an Extra?
There is a set fee for TV and film extras, which is £69 per day. The BBC does pay higher than this and a walk on part should bring even more money. Extra's fees are set by the Film Artists Association and there are additional payments based on factors such as overtime and wearing your own clothes. Meals are usually included for free throughout the production shooting schedule.
Will I Get to See Major Film Stars?
It depends on what you class as major film stars. A lot of TV extra work in cities such as London can be smaller productions, soaps, and long running series. Film extra work will mean you can view the stars from a distance but you probably will not get the chance to speak to them. If you are lucky enough to work as an extra on a major film then chancing your luck and talking to a star is not usually advised. Stars will have their own security on set to make sure that star struck extras do not approach them.
Do I Need to Have a Certain Look to be an Extra?
Not at all, extras are chosen to be able to blend in unnoticed. The most popular extras age group is 25 to 40 as they can be used within a number of different background scenes. People with a certain look may be used in certain scenes, such as beautiful women in nightclub scenes. In the end it's all down to casting, and directors will be looking for certain looks for certain scenes.
Scam Extra Agencies, What Should I Look Out For?
There will always be agencies out there who are in it for the money and don't have their worker's best interests at heart. The best way to judge is if they seem more interested in getting their hands on your money than finding you work. If an agency says that you will need professional headshots that they will provide but you will pay for then be wary. A number of good agencies don't take any money until they have supplied an extra with some work.
Can Working as an Extra Lead to Professional Acting Work?
It has been known that a director has spotted an extra and given them their first break into the acting world. This rarely happens but it's not unknown. However, most extras do this sort of work for extra cash and the chance to see what goes on behind the scenes within the film and TV work. If you are actually studying acting then it can be a great way to get known on the TV and film sets.
Should I Give Up My Day Job?
Extra work is not usually regular permanent employment so giving up a day job wouldn't be the wise option. Some people do actually work only as extras but these professional extras make up a small percentage. Flexibility is required and being on call at short notice will give extras more of a chance of gaining work. Be prepared for very long hours, early starts and a lot of standing about until the director calls for action.
You might also like...