Register With a Recruitment Agency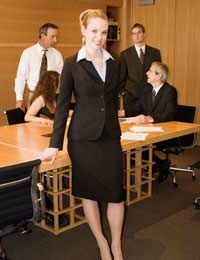 If you're looking to work and earn some income, or possibly change your career, then a recruitment agency is a good place to look, often better than a job site or newspaper. They can help you find appropriate employment that's not advertised elsewhere, possibly even somewhere with a rise in income. It's a much easier form of job search.
However, that's doesn't mean they can help everyone. They match people to available jobs on their books, and some specialise in certain areas – maybe on the technical side, or engineering or clerical staff.
How Recruitment Agencies Work
Look in the Yellow Pages and you'll see quite a few listings for recruitment agencies. They all tend to work in much the same way, taking your CV and trying to match you to appropriate employment. They'll have quite a number of companies on their books looking for staff in different areas, so, if you're qualified, it's easier to find a job this way – often much easier than job sites, which try to replicate recruitment agencies, but without the same success.
Companies love this form of recruiting because they don't have to worry about the selection and recruiting process – they're presented with a short list of qualified employees. To make sure you're properly qualified, recruitment agencies will test in certain areas, such as typing speed, where necessary, and also your familiarity with different types of office software.
They can also offer some career advice in your job search. It may be that you've gone to a recruitment agency because you want a new job with a higher income, or simply because you need a change, rather than being unemployed. They can give suggestions on your career, and the agency can help you find the right kind of employment.
Agents are well-trained professionals. It's in their own interests to put the right people in the right jobs, or the companies they deal with will simply drop them out of dissatisfaction.
How To Use A Recruitment Agency
Whether you're looking for employment or a career change, you'll need to find the right recruitment agency for your needs – that helps you, since it's easier for them to find you a good placing in your job search. Talk to them, find out what areas, if any, they specialise in, before you register with them.
It's possible to register with several agencies, since they'll all have different companies as clients (and quite possibly some overlap). If your job search is in a very specific field, then you'll need to be sure the agency works in that area, or it's unlikely they'll be able to find you anything, which can prove very frustrating.
When you go for an interview with the recruitment agency, look and act like a professional. Be prepared for testing, so make sure you're up to speed on all your skills. Don't be afraid to describe the type of job you seek, since the more you specify, the closer the match they might be able to find. If it's a career change, then also be specific, or talk to them and seek some career advice.
You might also like...