Look For a Job in The Newspaper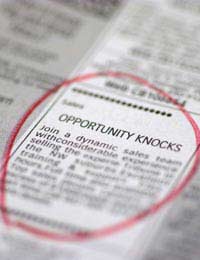 Traditionally, one of the main ways people have founds jobs is through the newspaper. The classified sections of a number of newspapers have paired up thousands of applicants with vacancies over the years.
But major national newspapers are changing. Many don't run the same type of ads any more, and those that do often have them available online. Do newspapers still have a role in helping you find a second income?
Local Newspapers
One source that continues to be fertile for job seekers, however, is the local newspaper. Most communities have one, be it in a city or a village (where the local paper will often cover an area). Some come out daily, and can be bought from the newsagents, whilst others are weekly, and distributed to every residence in the area. In many instances these free sheets can be an even more valuable source of job ads, since they target a community or area, and depend on ads for their income.
It's especially helpful because the employers advertising are local, so any applicant knows that the job won't be too far from home. Some people might be willing to commute 50 miles or more for a main job, but if you're going to put in hours on the evenings and weekends, you don't want to stray too far from where you live.
It doesn't matter whether the local paper has won awards for its journalism or is better used for recycling, the classifieds section is always worth reading. There's a wide variety of jobs, and many of them are part-time, a perfect fit for second income seekers, covering everything from bar staff to carers to office work.
The other plus about these local ads is that many request that the interested arrive in person to fill out an application form, rather than shooting a CV through in an e-mail. It a situation that works to everyone's advantage. The applicant has a chance to look at the place and the people who work there, and the business has the opportunity to scrutinise the applicant and immediately filter out those who simply aren't appropriate. That speeds up the process from application to interview and filling the position.
Additionally, since everything is local, there's a fair chance job seekers might already be familiar with the company, and have a good idea whether they want to work for them, or if the location is feasible for travel (if you're going by bus, then working until midnight in a nearby town where the bus service ends at 10 isn't going to help you at all).
National Newspapers
For a second income you can largely discount national papers. Where job vacancies are shown, they're almost invariably for full-time employment, and designed to find the best talent from around the country.
That's not to say you won't find a good second job there, but the odds are heavily stacked against you.
Using The Ads
Scan the ads every week – not just in the 'Part-Time Employment' section, but all the job ads, since some part-time work might appear in other categories. Circle the jobs that interest you and apply immediately – don't hesitate or wait. It can be by letter, phone, e-mail or in person, whatever the employer requests.
If it's in person, don't show up in a tee shirt and jeans to fill out an application form. You probably don't have to wear a suit, but dress neatly. Remember, first impressions count for a lot.
Use the ads wisely, follow up promptly, and you might well find yourself with a second job very quickly.
You might also like...