Become a Travel Courier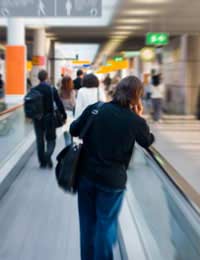 The main advantage to becoming a travel courier is the opportunity to obtain massively discounted or even free international flights. This type of work will not usually provide a wage but for those on a budget who love travelling it can be ideal.
What Is A Travel Courier?
A travel courier or air flight courier is a person who carries documents for companies to destinations around the world. In exchange for providing the courier service the courier will have received air flight tickets at either a discounted rate or in some cases for free. In some cases the courier will give up any baggage allowance in return for carrying and delivering the documents.
Why Companies Use Couriers
Businesses use couriers because it is cheaper to transport documents and parcels in this way than to pay freight shipping costs. It also saves time as the documents accompanied by a courier pass through customs a lot quicker. Using freight services means documents and parcels can sit in the customs area for days awaiting clearance. The courier will be responsible for picking up and delivering the documents and parcels but not for the actual content of the parcel.
The Benefits Of Becoming A Courier
One of the major benefits is the chance to fly to international destinations at a massively discounted price rate. Courier companies will buy normal airline tickets and then sell them to the couriers for huge discounts in return for delivering the documents. Discounts can be as much as 85% less than the actual ticket cost and tickets are always round trips. Free tickets are very rare but they do happen on occasion especially in last minute situations.
Becoming A Courier
The best way to become an air flight courier is to register with one of the major courier companies. You may need to pay a registration fee of around £30 for a year's membership. Once you have registered and been accepted you will then receive a contract and can make reservations for courier work and buy the cheap flight tickets.
Booking A Flight In Advance
Once accepted with an air courier company you can be on a flight within 24 hours if you wish. To guarantee a seat on a flight to a chosen destination you will usually need to book around one to two months in advance. Popular destinations, especially during the summer months can be much sought after so booking in advance is advisable. Ticket prices will drop if the company is short of couriers to particular destinations or if it is close to take-off time and no courier is available.
Accommodation For Couriers
Once the courier has arrived at their destination the accommodation will come from their own expenses; accommodation prices are not part of the package. The return ticket will usually permit a stay in a chosen destination for a period of usually between seven days and six months. The length of stay will depend on the ticket supplied and in some cases there are no minimum stay periods.
Travelling Alone
The main concept behind this type of work is to enable couriers to fly on holiday at a heavily discounted rate. Couriers will fly alone and there is usually only one company courier on each flight. Of course some people do not like going on holiday alone but there is nothing to stop a friend or partner booking onto the same flight as the courier. Couples can become couriers for different companies and then a little research means they can fly to the same destination with different companies.
Receiving The Air Flight Tickets
Payment for tickets will usually occur when a courier reserves a job. Tickets will be received by couriers on the day of the flight either at home by mail or at the airport. Receiving the tickets on the day of the flight may sound risky especially if the postal service is bad. In some cases a company will arrange for a courier to turn up at the airport and simply pay for the ticket there and then. Be aware that couriers who miss their flights will not be allowed to apply for anymore jobs.
Although there is no actual money to be made as a travel courier the discounted tickets can more than make up for this. Anyone over the age of 18, or 21 in some countries, can become a travel courier. This is a fantastic way to see the world on a budget especially if you have a degree of flexibility with your leisure time.
You might also like...